Hydrophilic PTFE Pleated Filter Cartridge
Product Description

Yitong PTFE cartridge is a hydrophilic filter made of natural hydrophilic PTFE membrane and polypropylene support layers and components.PTFE Membrane Filter Cartridge are retentive that offers superior hydrophobicity and water intrusion resistance compared to PVDF and polypropylene membranes.It is ideal for gas/vent applications and the filtration of aggressive chemicals and solvents, and best fit for critical processes in pharmaceutical industries, chemical plants, beverages & syrups, distilled water plants, etc.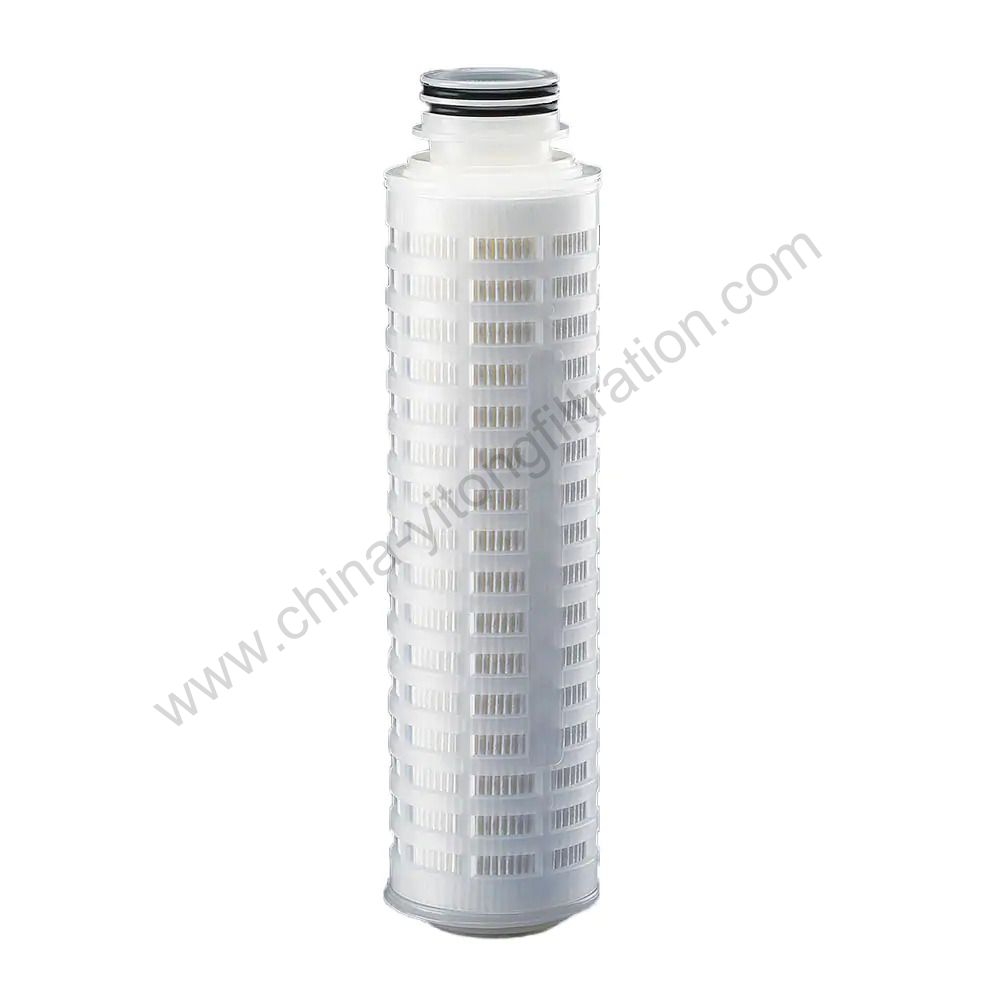 Performance Features
1 100% integrity tested.
2 Absolute rated & precisely controlled pore size distribution forsuperior & constant bacterial retention.
3 Autoclave or in situ steam sterilization features.
4 Heavy-duty molded cage — high structural strength
5 PTFE membrane has excellent chemical resistance.
6 Low pressure drop and high flow rate.
Application
1 Sterilization filtration in pharmaceutical industry
2 Sterilization filtration of solvents in chemical industry
3 Sterilization filtration of disinfectant and antibiotic
Biological Safety
Biological Safety: The product materials comply with USP in-vivo VI-121 ℃ plastic biological response test.
Endotoxin: <0.25EU/ml;
Cleanliness: The product is in line with 2010 GMP requirements on injection of particles;
Readily oxidizable substance: the substance should be in line with 2010 GMP test requirements of particle contents in injections after water rinsing for 2000ml;
TOC/conductivity: after the product is flushed with 20L injection water at 25 ℃ (10〃) . It is in line with requirements of 2010 GMP on total organic carbon contents and conductivity in injection water.
Technical Parameter
Cartridge structure

Filter area

0.7㎡

Filter membrane

Hydrophilic PTFE

Guide layer

PP

Inner support、end cap、shell

PP

Seal ring material

Silicone,Viton,EPDM,PTFE

Working situation

Max.working temperature

≤80℃

Max. working pressure drop

0.4Mpa/23℃

0.21Mpa/80℃

Sterilization

121℃/30min steam sterilization