PES Pleated Filter Cartridge
PES Pleated Filter Cartridge
Product Description:
PES Cartridges are made up of Polyethersulfone with uniform pore distribution to ensure maximum performance in bacterial retentions. It's upstream &downstream polyester support ensures complete resistance to pressure shocks. Polyethersulfone membrane is hydrophilic in nature, hence it allows easy integrity testing for all applications where daily controls are required. The membrane possesses broad chemical compatibilities & contains no surfactants. And it can provide absolut rating to fulfil the most demanding filtering requirements, widely used for sterile filtration in Active Pharmaceutical Ingredients production.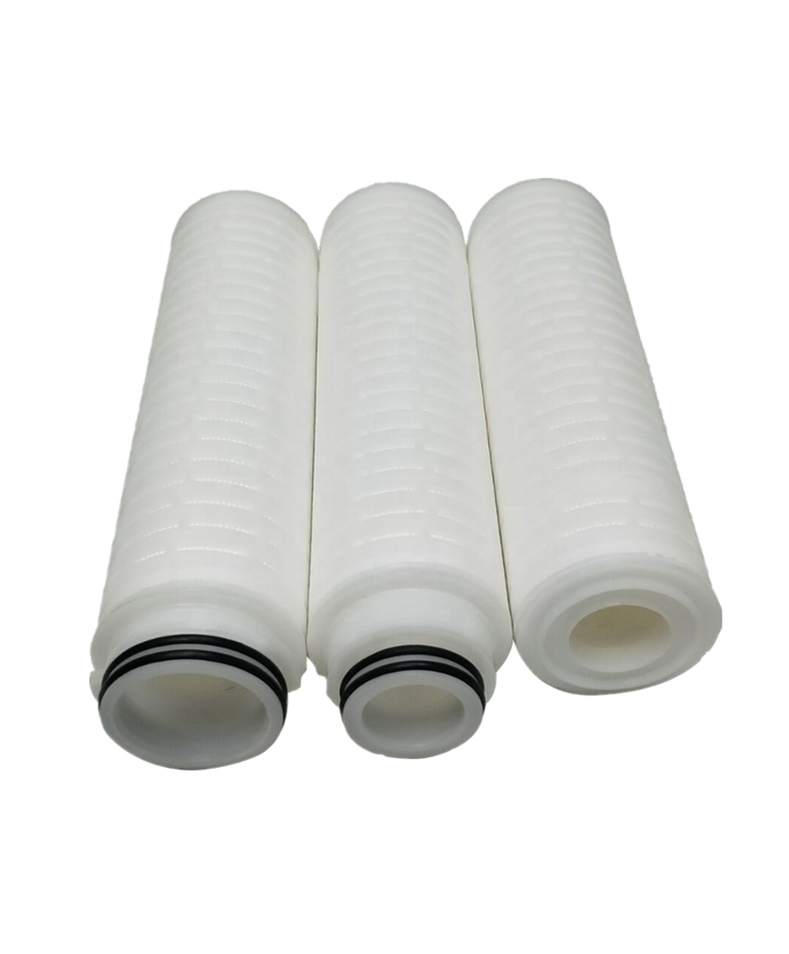 Performance Features:
1.Excellent hydrolytic stability & chemical compatibility.
2.Specific pore size distribution for full bacterial retention.
3.End caps and connectors are sealed by thermal bond, free from binder.
4.Low pressure drop and high flow rate.
5.Absolute rated.
6.Autoclave or in situ steam sterilization features.
7.100% integrity test is acceptable.
Application:
1.LVP and SVP sterilization filtration.
2.Biological products sterilization filtration.
3.Beverage & wine sterilization filtration.
4.Freeze‐dried powder sterilization filtration.
5.Pure water & mineral water sterilization filtration.
6.High purity chemical reagent sterilization filtration.
Biological safety:
Biological Safety: The product materials comply with USP in-vivo VI-121 ℃ plastic biological response test.
Endotoxin: <0.25EU/ml;
Cleanliness: The product is in line with 2010 GMP requirements on injection of particles;
Readily oxidizable substance: The substance should be in line with 2010 GMP test requirements of particle contents in injections after water rinsing for 2000ml;
TOC/conductivity: After the product is flushed with 20L injection water at 25 ℃ (10〃) . It is in line with requirements of 2010 GMP on total organic carbon contents and conductivity in injection water.
Technical Parameter:
Cartridge structure

Filter area

0.65㎡

Filter membrane

PES

Guide layer

PP

Inner support、end cap、shell

PP

Seal ring material

Silicone,Viton,EPDM,PTFE

Working situation

Max.working temperature

≤80℃

Max. working pressure drop

0.4Mpa/23℃

0.21Mpa/80℃

Sterilization

121℃/30min steam sterilization
Integrity test:
| | | | | |
| --- | --- | --- | --- | --- |
| Aperture(um) | 0.1 | 0.2 | 0.3 | 0.45 |
| The lowest bubbling point in pure water(MPa) | ≥0.48 | ≥0.34 | ≥0.25 | ≥0.16 |