PP Pleated Filter Cartridge
PP Pleated Filter Cartridge
Product Description
The Polypropylene pleated filter cartridge or PP Filter Cartridge is constructed with a high surface area polypropylene media(PP microporous membrane) for low initial pressure drop, high dirt holding capacity.It is an efficient membrane prefilter and can act as a final polishing filters for numerous fluid refining processes. The filter cartridges are constructed with heavy duty molded cage which enables it to withstand high pressure drop.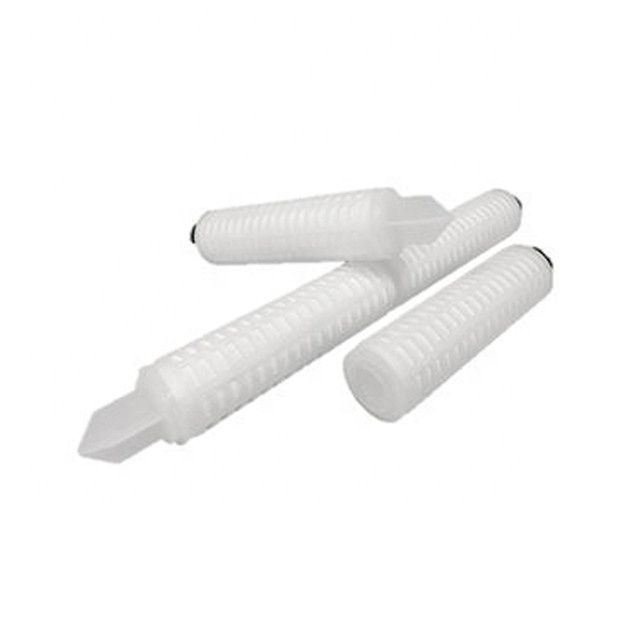 Performance Features
1 Micron ratings from 1 to 100 μm — broad application range
2 Polypropylene construction — inert to many process fluids(High chemical compatibility)
3 Various gasket/O-ring materials for you to choose to fulfil your different needs
4 Heavy-duty molded cage — high structural strength
5 Thermally welded construction.
6 PP microporous membrane provides high filtration performance and long service life
Application
1 Prefiltration in chemical industry.
2 Prefiltration in pharmaceutical industry, the processing of injections.
3 Prefiltration in food and beverage industry.
Bio-safety
Dissolved matter every10": <30mg
Endotoxin: <0.25EU/ml
Technical Parameter
Cartridge structure

Filter area

0.65㎡

Filter membrane

PP

Guide layer

PP

Inner support、end cap、shell

PP

Seal ring material

Silicone,Viton,EPDM,PTFE

Working situation

Max.working temperature

≤80℃

Max. working pressure drop

0.4Mpa/23℃

0.21Mpa/80℃