Nylon Pleated Filter Cartridge
Yitong nylon Membrane Filter Cartridges are disinfecting grade nylon cartridge.
Nylon Pleated Filter Cartridge
Product Description

Yitong nylon Membrane Filter Cartridges are disinfecting grade nylon cartridge. Nylon media is specifically adapted for the filtration of solvents because of its broad affinity and low quality of extractables. Many particles common in water and other liquids have a net negative charge, allowing for enhanced capture by the positively charged nylon membrane in this filter.The filter cartridges are constructed with heavy duty molded cage which enables it to withstand high pressure drop. Filter cartridges are characterized by hydrophilic Nylon membrane, providing high throughputs, low extractable and good mechanical strength, widely used for sterile filtration in Active Pharmaceutical Ingredients production.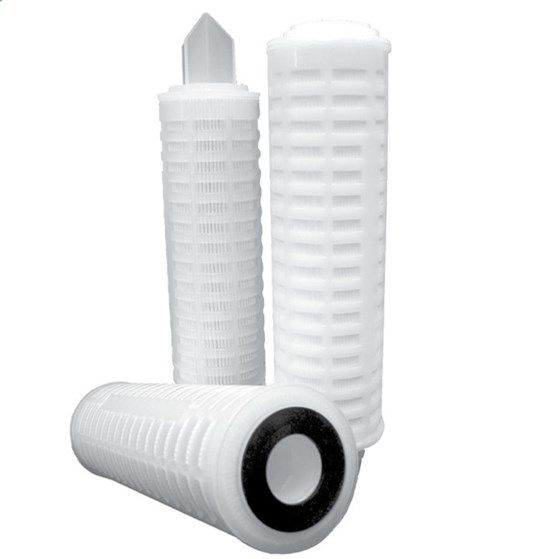 Performance Features
1 Low extractable,pressure drop and high absorption.
2 Wide Chemical Compatibility.
3 High throughputs and cost-effective as well as longer service life.
4 Steam sterilization is acceptable.
5 Enhanced removal of end toxins by positive zeta potential.
Application
1 Parenterals (SVP, LVP), Reagents & Buffers.
2 Vaccines, Serum & Blood Fractions.
3 Particulate & Bioburden Reduction.
4 Cell Culture Fluids.
5 High-Purity DI Water and WFI Systems.
Biological Safety
Biological Safety: The product materials comply with USP in-vivo VI-121 ℃ plastic biological response test.
Endotoxin: <0.25EU/ml;
Cleanliness: The product is in line with 2010 GMP requirements on injection of particles;
Readily oxidizable substance: the substance should be in line with 2010 GMP test requirements of particle contents in injections after water rinsing for 2000ml;
TOC/conductivity: after the product is flushed with 20L injection water at 25 ℃ (10〃) . It is in line with requirements of 2010 GMP on total organic carbon contents and conductivity in injection water.
Technical parameter
Removal Ratings (μm): 0.1 / 0.22 / 0.45 / 0.65 / 1.0
Cartridge structure

Filter area

0.65㎡

Filter membrane

Nylon 66

Guide layer

PP

Inner support、end cap、shell

PP

Seal ring material

Silicone,Viton,EPDM,PTFE

Working situation

Max.working temperature

≤80℃

Max. working pressure drop

0.4Mpa/23℃

0.21Mpa/80℃

Sterilization

121℃/30min steam sterilization