Stainless Steel Mesh Pleated Filter Cartridge
The stainless steel pleated filter element is designed specifically for high flow rates, high pollutant holding capacity, and high-temperature resistance. The wire mesh design comes in regular and coated types, with single, double, and multiple layers. This filter cartridge can also be provided with a stainless steel sintered fiber layer.
Yitong Filter is a professional Chinese manufacturer and supplier of stainless steel wire mesh pleated filter elements. These stainless steel metal pleated filter elements are made from SS 304, SS 316, and SS 316L materials. They are intended to overcome temperature and chemical compatibility barriers found in materials or synthetic fiber media. This will provide exceptional temperature resistance, even in the face of high-pressure differentials.
The filter material of the filter cartidge is mainly made of stainless steel fiber sintered felt and stainless steel woven net by processing into corrugated filtrer cartidge. The sintered stainless steel fiber felt can be made into a multi-layer structure with pore size from coarse to fine, which has strong contaminant carrying capacity and high porosity. Stainless steel woven mesh is made of stainless steel wire of different diameters, and the filter element made has the characteristics of good strength, not easy to fall off, easy to clean, large filtration area, good permeability and so on.
Stainless Steel Mesh Pleated Filter Cartridge
Product Description
Yitong stainless steel pleated filter cartridges attains their superior performance due special filter medium, composed of 100%, 316L random fiber stainless steel. The unique calendering process compresses the fiber matrix to form specialized filter media which provides consistently high porosities and large filtration areas. The metal structrue provides perfect strength, which helps it to wothstand high pressure drop.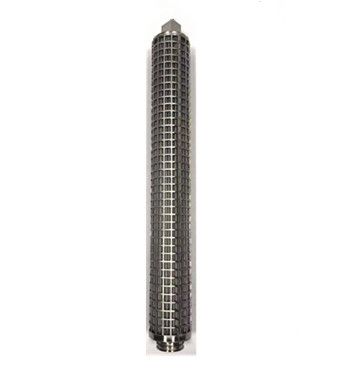 Product Feature
1 High porosity, low pressure drop.
2 High temperature and high pressure resistance.
3 Suitable for filtration of high viscous liquids.
4 Suitable for filtration under high temperature condition.
5 Easy to clean.
Application
1 steam filtration
2 filtration of strong acid and alkali
3 filtration of the corrosive liquid
4 filtration of liquid and gas under condition of high temperature
5 Decarburization filtration
6 Filtration of viscous liquid
Technical parameter
Cartridge structure

Filter media

304, 316, 316L Stainless steel

Seal ring material

Silicone,Viton,EPDM,PTFE

Working Situation

Max.working temperature

≤300℃

Max. working pressure drop

300Mpa/23℃

Rating

1, 2, 5, 10, 20, 50, 75, 100 micron

Length

210, 250, 350, 500, 750, 1000mm

OD

47, 65, 76, 86, 100mm

Connector

M20 M65 222 226