Stainless Steel Powder Sintered Filter Cartridge
Yitong Stainless steel powder sintered filter cartridge is made of 304 or 316L stainless steel.
Stainless Steel Powder Sintered Filter Cartridge
Product Description

Yitong Stainless steel powder sintered filter cartridge is made of 304 or 316L stainless steel. The SS powder forms into the filter media after the sintered process. The pore size is even to provide high flow rate and great interception ability. It has great strength and high temperature resistance, whihc makes it is able to withstand harsh working environments. And it can be backwashed, so it has long service life.Commonly used metal materials for titanium,stainless steel powder or other metal powder particles,in the production process does not rely on any adhesive,through the cold isostatic pressing of metal powder,high temperature vacuum sintering and welding and other main processes prepared from a new type of metal porous filter elements with high strength and overall performance.Powder sintered filter element can achieve micron level precision filtration and high temperature resistance,high pressure,easy to clean the advantages.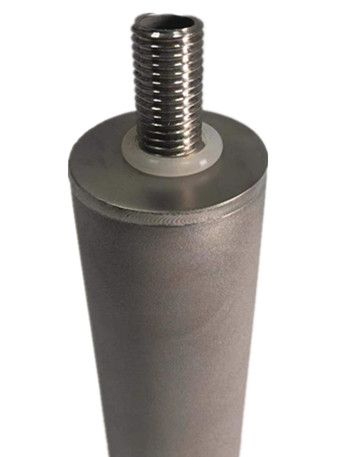 Sintered stainless steel metal tubes are made by sintering stainless steel powder. Compared to nickel sintered tubes, they exhibit excellent corrosion resistance and high mechanical strength, making them an economical and efficient choice. Sintered porous metal tubes possess significant mechanical toughness and rigidity. Additionally, they have a uniform pore size distribution and high permeability, providing smooth and rapid flow for your filtration needs.
The stainless steel powder sintered filter cartridge can be used with various types of connectors and can be customized according to specific requirements. Here are some common connector types:
Standard connector: Including 215, 222, and 226 connectors, which are typically used in industrial filtration equipment and filter cartridges.
Thread connection: Such as M20, M30, M32, M42, and other types of threaded connectors, used to connect with other equipment or pipelines for more convenient filtration operations.
Flat/DOE: These connectors have a smooth surface and are suitable for certain specialized filtration applications.
Special Customized Connectors: Different types of connectors can be custom-designed based on users' specific needs and special applications to ensure the effective operation of the filter in specific environments.
The flexibility provided by these connector types makes the titanium powder sintered filter suitable for a wide range of industrial and laboratory filtration needs.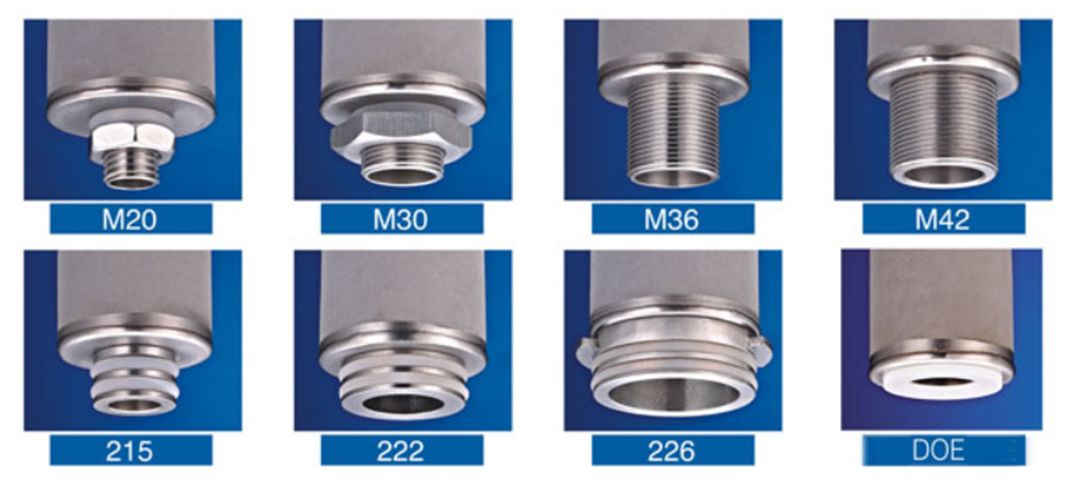 Feature of Sintered Metal Tubes:
1 High flow rate
2 Easily to be cleaned, long service life
3 High filtration rating
4 High temperature and high pressure resistance
5 Good strength
6 Wide range of filtration grades, from 1 micron to 250 microns or larger.
7 Varying internal dimensions available, with the smallest being as little as 10 millimeters.
8 Excellent mechanical strength, maintaining superior filtration performance under pressure.
9 Enhanced cleaning convenience due to a basic design allowing specific backwashing.
Materials used in Sintered Metal Tubes:
One of the materials you can use is stainless steel, known for its high mechanical resilience and corrosion resistance. Apart from stainless steel, bronze materials with excellent corrosion resistance can also be used. However, they are relatively weaker and lack the substantial mechanical and tensile strength required for high-pressure applications. You can also incorporate nickel and its alloys into the materials used for manufacturing sintered metal tubes.
Working Principle of Sintered Metal Tubes:
Fluid will undoubtedly pass through the filter section containing sintered metal tubes. As it passes through the sintered metal tube, there will be a change in pressure, leading to a drop in pressure. The pressure drop signifies a reduced flow rate along the sintered metal tube line, enhancing the force required for fluid to pass through the smallest pores in the sintered metal tube. When this happens, larger-sized contaminants will be unable to pass through the pores, allowing the clean liquid to continue flowing. As impurities are captured due to the small pore size, a brief backwashing is applied to remove the pollutants. It also directs the contaminants towards the starting point of the sintered metal tube, effectively eliminating them. The clean fluid then proceeds to the fluid outlet point for additional processing.
Advantages of Using Sintered Metal Tubes:
Good shape stability

High mechanical strength
Controllable porosity
Good permeability
Excellent thermal shock resistance and corrosion resistance
Ease of forming or molding
Easy to clean and maintain
Proper pore distribution
Application
1 Seawater desalination, sewage treatment.
2 Filtration of oil and organic solvents.
3 Degreasing and dust removal filtration of gas.
4 Terminal filtration of the purified water and mineral water.
Technical Parameter
Cartridge structure

Filter media

304, 316, 316L Stainless steel

Seal ring material

Silicone rubber,EPDM,PTFE

Working Situation

Max.working temperature

≤300℃

Max. working pressure drop

300Mpa/23℃

Rating

1, 2, 5, 10, 20, 50, 75, 100 micron

Length

125, 250, 350, 500, 750, 1000 mm

OD

20, 30, 50, 60, 70, 90, 125 mm

Connector

M20 M65 222 226