Sanitary Aseptic Air SS GAS Vent Filter Housing
Product Description
The vent filter is specially designed for the purpose of eliminating bacteria in gas exchange in pharmaceutical and food industries. The air in the tank can be separated from the outside by this filter. The air in the tank can be discharged smoothly, so that the microorganisms and particles outside the tank can not enter the tank.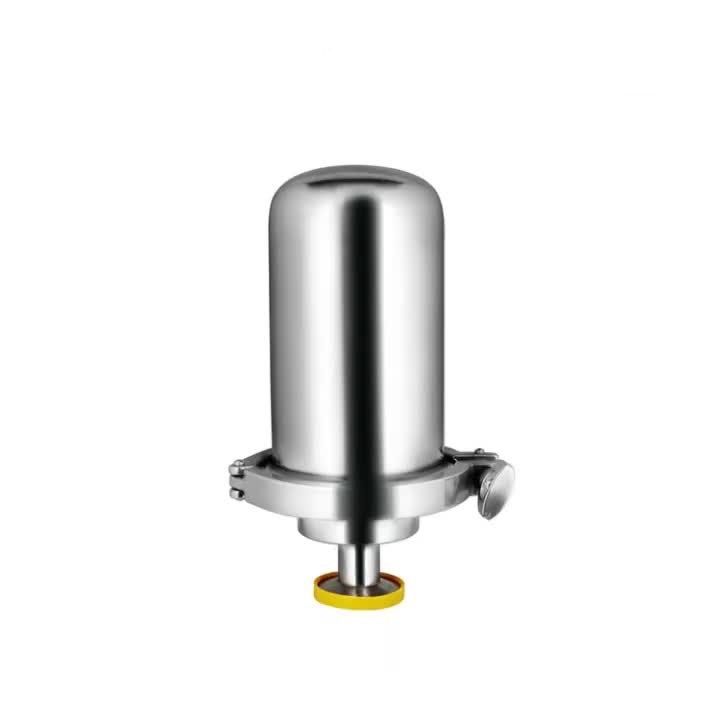 Product Feature

1. The diameter of filter core is uniform and stable with low air resistance.
2. The precision of gas filtration is 0.01um, reaching 99.99% efficiency, which meets the aseptic requirements of GMP.
3. Interface with quick open type(clamp), filter cylinder is made of 304/316L. The inner surface is processed by polishing tech, Ra 0.28-0.6um. Treatment of outer surface can be designed according to requests.
Application:
1. Biological technology, fine chemical industry, Pharmaceutical field.
2. Food and beverage industry
Technical Parameter
Material
Filter material
SS316L /SS304
O ring gasket
EPDM,PTFE,Silicone, vi-ton
Cartridge
Standard
PTFE
Pressure
Working pressure
6 bar
Temperature
Working temperature
135℃
Sterilization temperature
121℃≤30min
Surface treatment
Finish type
Polishing
Surface finish
Internal 0.3 μm, External 0.4 μm
Connection
clamp
Filter cartridge con.
226
Length
5" 10" 20"
Filter Choice
PTFE filter cartridge for the sterilization.
PP filter cartridge for non sterilization.