Aug. 16, 2023
Stainless steel sintered filter cartridges are not only used as filtering media in basket filters, screen filters, and other filtering equipment, but also boast numerous outstanding features, such as high filtration precision, high temperature resistance, corrosion resistance, high mechanical strength, easy processing, and long lifespan. As a result, these cartridges are increasingly being applied in the field of separating products and process media in the petroleum and petrochemical industry. For instance, stainless steel metal powder sintered filter cartridges have achieved favorable separation effects in the hydroxylamine reaction catalyst filters during caprolactam production, as well as in the catalytic cracking slurry filters using stainless steel multi-layer wire mesh sintered filter cartridges.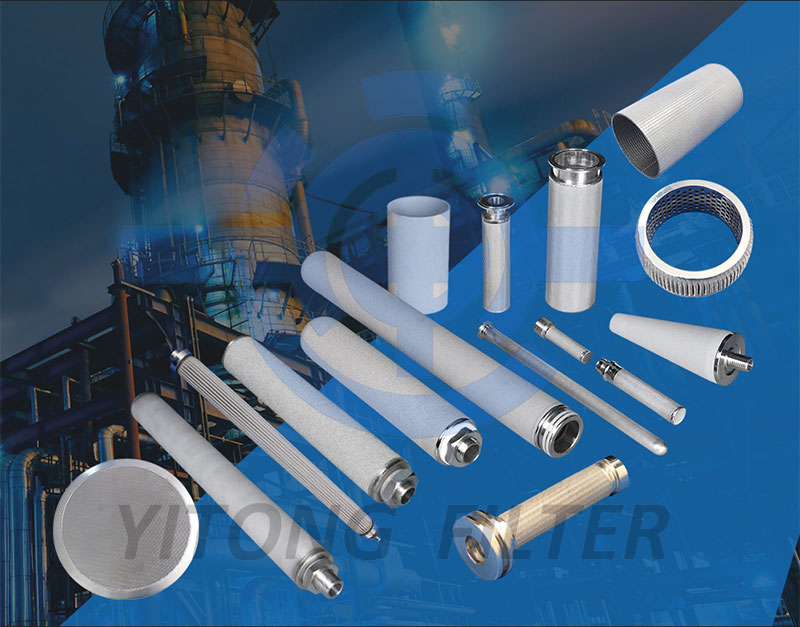 Although stainless steel sintered filter cartridges possess high mechanical strength and strong corrosion resistance in the petroleum and petrochemical industry, incidents of filter cartridge damage and fracture still occur during usage. The primary cause of filter cartridge damage and fracture is the process of regeneration, which involves using a sintering process to remove catalyst particles causing clogging or oil slurry residues on the filter surface. In the sintering process, local high temperatures are inevitable, and since the carrier of the hydroxylamine reaction catalyst is activated carbon, carbon infiltrates into the stainless steel material at high temperatures, resulting in carburization. This leads to a significant increase in the carbon content within the stainless steel, reducing its mechanical and corrosion-resistant properties. The carburized stainless steel material becomes susceptible to alkali embrittlement during subsequent alkaline regeneration treatment, causing a noticeable decrease in mechanical strength and resulting in filter cartridge breakage upon impact.
Given that the fundamental cause of filter cartridge damage is carburization occurring during the regeneration process, which is facilitated by high temperatures, the ultimate solution lies in avoiding sintering during the filter cartridge regeneration process. Instead, alternatives such as soaking in solutions or ultrasonic cleaning can be employed.