Side Entry Bag Filter Housing
Product Description
Yitong stainless steel Side Entry Bag Filter Housing is mainly used for coarse filtration and prefiltration,it is easy to operate, high effective, suitable for high flow, high capacity filtering applications. The filter bags inside the filter will be fixed well by the clamp ring, whihc provide great leakproofness.The 100% 304 or 316 stainless steel structrue makes it is corrosive-resitant, and gives a loonger service life.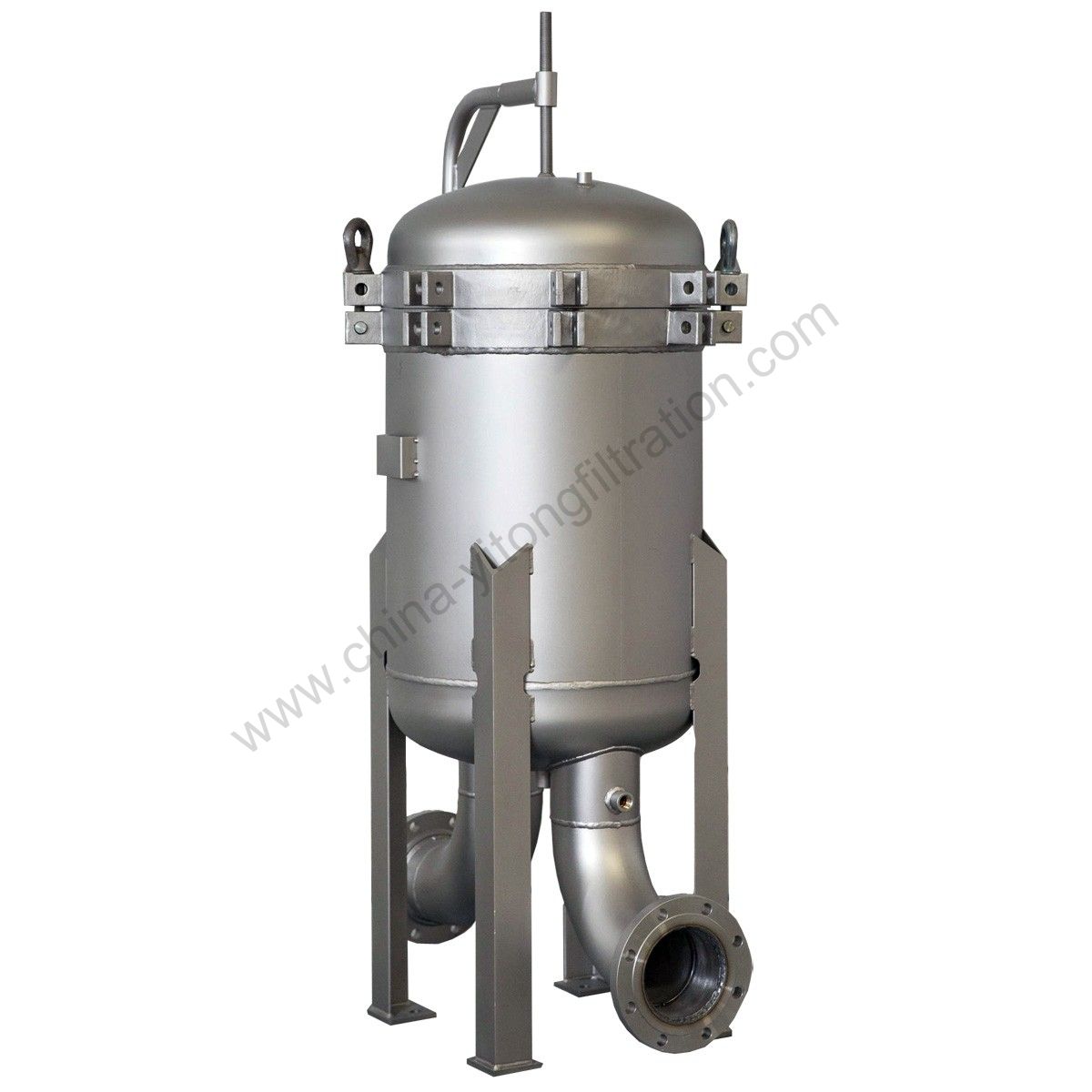 Product Feature
1 Easy to operate, economical, suitable for high flux situation.
2 The spring is used to press the ring of filter bag tightly, make sure the leakproofness between the filter bag and the housing
3 The upper-lower path is adopted, the feed method is reasonable, easy to operate.
Application
It is suitable for the pre-filtration and rough filtration of the fluids with a certain content of solids, usually applied in the high flow rate filtration and security filtration.
Technical Parameter
1. Surface Finish
Finish type
Mechanical polishing, electrolytic polishing, sand blasting,pickling
Polishing precision
Inner surface Ra≦0.6um, Outside surface Ra≦0.8um
Basket 0.6um
2. Operating Condition
Max operating pressure: 0.6 Mpa/1.0 Mpa
Max operating temperature: 150 ℃
3. Material
Shell/cylinder: 304/316L
Eye-bolt: SS304
Stabilizer blade: SS304
O-Ring/Gasket: EPDM, PTFE, VITON, SILICONE
4. Connection:
Connection of shell: flange
In-outlet: flange, quick-open, screw thread
Pressure gauge: 1.5"(#1 and #2 bag)M14*1.5 female thread (#3 and #4 bag)

1. Dimension
Description
cover
#1
#2
#3
#4
Height-mm
990
1365
525
635
Distance from inlet to centre-mm
147
92
Diameter-mm
204
204
114
114
Height from inlet to ground-mm
835
1205
445
555
Height from outlet to ground-mm
250
300
100
In-outlet size-inch
1.5"/2"
1"/1.5"
Stabilizer blade-mm
500
800
300
400
Max flow cbm/h
20
40
6
12
#1 bag: 180*430mm, #2 bag: 180*810mm#3 bag: 105*230mm#4 bag: 105*380mm