YTHF162 High Flow Filter Cartridge
Product Description
Yitong 60-inch high-flow water filter produced is made of PP polypropylene. The pore size can be made between 1 and 100 microns according to customer requirements. The sizes are 10 inches, 20 inches, 30 inches, 40 inches. 60 inches, can completely replace the PALL filter element.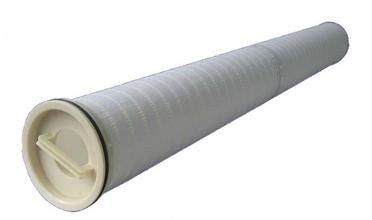 Product Feature
1. Five layers of filter media.
2. Adopting physical folding type, large medium area of filtration and high impurities removal.
3. PP polypropylene membrane meets the requirements of non-woven fabric and diversion layer to provide deep filtration structure
4. High physical pressure performance and stable filtration process
5. Good chemical compatibility , suitable to kinds of chemical filters.
Application
1. Common uses: pre-filtration of RO reverse osmosis system
2. Chemical/petrochemical industry: various acids, bases, solvents, quench water, brine and other chemical agents
3. Power Plant: Supplementary Water, Condensate Water, Stator Cooling Water, etc.
4. General industry: various process fluids, process water, condensate, cooling water, wastewater treatment, etc.
5. Microelectronics industry: deionized water pre-filtration
6. Food and beverage industry: process water, etc.
Technical Parameter
Cartridge structure

Length

20 inches (508 mm), 40 inches (1016 mm), 60 inches (1524 mm)

Filter material

Polypropylene

Micron

1um,5um,10um

OD

6.3 inches (160mm)

ID

3.5 inches (89mm)

Inner support、end cap、shell

PP

Seal ring material

Silicone,Viton,EPDM,PTFE

Working situation

Max.operating temperature

80℃

Max. working pressure drop

0.42Mpa

Maximum replacement pressure difference

0.2 MPa